Destination 2008
Monterey Bay - California
Next trip: Mid March 2008 - 1 week trip
Highlights of the Monterey Bay Whale Watching Trip…
Migrating Gray Whales moving from their winter breeding grounds in Baja California northwards to their summer feeding grounds in the Bering Sea.



Many of these sightings may be mother and calf pairs as they are the last to leave the breeding lagoons of Baja California on their migration north as mothers wait for their calves to gain strength for the long and arduous migration



Sea Otters, California Sea Lions and the Eastern Pacific Harbour Seals are usually sighted on these boat trips out to the Gray Whales



Killer Whales are often seen on the Gray Whale inshore migration routes and on the edge of the submarine canyon as they are known to predate on the Gray Whale calves at this time of the year



Other unusual dolphin sightings frequently include Long Beaked Common Dolphins, Pacific White Sided Dolphins, Risso's Dolphins, and Pacific Bottlenose Dolphins



Frequent encounters are made with the only Porpoise species to bow ride boats, the uniquely and unmistakably patterned, stocky Dall's Porpoise
Description
Monterey Bay and this part of the California coastline is one of the best places to see migrating Gray Whales. The deep Monterey Submarine Canyon comes in close to shore in the Bay region causing the Gray Whales to pass closer in to the shore here as they prefer the shallower water along the coast. During our three-hour boat tours this gives us plenty of time to find the whales and also look for the deep-water dolphin species like Dall's Porpoise, Pacific White Sided Dolphins and Killer Whales that may be found nearer the edge of the canyon.
During the winter and spring from December to April the entire Gray Whale population passes north through the coastal waters of the Monterey Bay region on one of the longest animal migrations of nearly 12,000 miles. Te whales travel from their winter breeding grounds to their summer feeding areas in the Bering Sea and around the Alaskan Peninsular. At the end of the summer months they travel back again. This annual migration has been taking place for thousands of years.
Staying in comfortable small hotels and inns in the Monterey Bay region we have access to some of the best wildlife viewing in this region of the United States. The Monterey Submarine Canyon is the largest marine park in the US and we have access to one of the most dramatic parts of the Pacific coastline around Big Sur with it's Elephant Seal colony, Californian Condors and the wilderness areas of Ventura County. In addition there is the world famous Monterey Bay Aquarium and the city of San Francisco all within easy reach.
Itinerary
Day 1: Flight to San Francisco, pick up at airport and transfer to accommodation in Monterey Bay area. Some free time to settle in or explore the town of Monterey before a welcome reception, group evening meal and short presentation by our whale watch guide



Day 2: Head out on a three hour boat based whale-watching tour with our chosen tour company looking for the Gray Whales, sea otters and harbour seals frequently seen in this area at this time of year. Free time in afternoon to explore with a group meal in the evening to compare notes on sightings



Day 3: Three hour boat based whale-watching tour looking for Gray Whales and their calves migrating north. Afternoon tour of Fisherman's Wharf area of old Monterey town including Cannery Row and the restaurants and shops. Evening free to do your own thing.



Day 4: Day trip by coach to Big Sur to look at the Elephant Seal colony including Ventura County looking for recently introduced Californian Condors. This is a long day so the evening is free to chill out and get a light meal or go out on the town!



Day 5: Three hour boat based whale-watching tour heading out to look for dolphin species and Dall's Porpoise. Afternoon tour of the world famous Monterey Aquarium. Group meal in the evening with presentation on the Monterey Bay submarine canyon and its unique wildlife



Day 6: Day trip to San Francisco. Free time in the city to explore Fisherman's Wharf area, Alcatraz, the Golden Gate Bridge and downtown. Group farewell meal in the evening with awards and prize giving for those who have excelled!!



Day 7: Three hour boat based whale-watching tour to the Monterey Submarine Canyon edge looking for Killer Whales. Afternoon and evening free time to do your own thing and say goodbye to Monterey.



Day 8: Return to San Francisco airport, farewells and flight home - unless you choose to stay!
To Include…
Airport pick ups and set downs
Accommodation (some single supplements apply)
All Whale watching trips
All Breakfasts and lunches
Evening meals where specified (x4)
All transfers and day trips
All presentations and receptions
All admissions
Does not include…
Flights
Spending money
Evening meals not included
Drinks or wine with meals
Minimum number: 12
Please contact us for pricing and further details:
Call Nic on:
Mobile: 00 353 (0) 86 120 0027
Landline: 00 353 (0) 28 33357
© Whale Watch West Cork Ireland 2005-2009
Use of this site constitutes your acceptance
of our Terms of Use.
[an error occurred while processing this directive] [an error occurred while processing this directive]

Read more about:

Pictures from the Monterey Area:

Gray Whale off Monterey

Killer Whale off Monterey

Blue Whale off Monterey

Big Sur Coastline

California Condor, Big Sur

Giant Octopus, Monterey Aquariam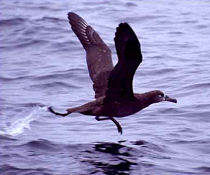 Black Footed Albatross, Monterey

Point Sur Lighthouse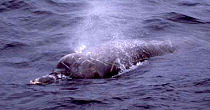 Bairds Beaked Whale off Monterey
See more:
Did you know...?
Proposals tabled by the United Nations and the North East Atlantic Fisheries Commission to put in place lasting protection for deep sea habitats and sea mounts has recently been scuppered by the pirate whaling nation Iceland. Talks to introduce a moratorium on unregulated deep water bottom trawling, a practice which is incredibly damaging to the deep sea marine environment, have recently been taking place. Even nations such as Japan, Canada and Spain, not known for their enlightened conservation policies, were prepared to accept a compromise which would have lead to a degree of protection for deep sea environments, especially cold water corals and sea mounts. Iceland however, was the only country to block the consensus that could have been reached and push for a continued destruction of deepwater marine habitats through bottom trawling. Habitats that harbour fish like the Orange Roughy which are believed to live as long as 200 years. The deep sea marine environment is very easily damaged by activities such as bottom trawling and some habitats may never recover. The call for a moratorium on deep water trawling has been supported by a recent study published in the acclaimed journal Science, that if we do not substantially change the way in which we manage our oceans then we may see a collapse of many commercial fisheries around the globe as early as 2048.