Dolphin Holidays
Whales World Wide is the overseas whale and dolphin watching arm of Whale Watch West Cork. We specialise in organising whale and dolphin holidays, taking small parties of dedicated whale and dolphin watchers to different parts of the world to experience first hand the special behaviour of whales and dolphins in their natural habitats.
Imagine yourself being surrounded by a group of curious Common Dolphins, bow riding just a few feet from you as you stand at the front of the boat. Watch Bottlenose Dolphins jump and cartwheel in the stern wave. Marvel at large groups of Pacific White-sided Dolphins following the boat or pods of Risso's Dolphins spy hopping. If your idea of a perfect holiday is to spend time dolphin watching or observing the behaviour and photographing dolphins in their natural habitat then accompanied dolphin holidays with Whales World Wide, the overseas dolphin watching arm of Whale Watch West Cork is the answer. We organise trips around the world to watch dolphins and whales, close up and in their natural environment to which they are so well adapted. Dolphin holidays with Whales World Wide are fun, informative and fulfilling.
Dolphin Watching Holidays
We specialise in dolphin watching holidays in several destinations around the world, specially selected for their diversity of dolphins and whales and the opportunities they provide for viewing and photographing a variety of marine wildlife in addition to the unique marine mammals of that region. Each year we select a destination for our dolphin watching holidays based on species diversity and recent sightings records.
Proceeds from our dolphin watching holidays are used to fund ongoing cetacean research and conservation projects on a national and international basis.
Dolphin Watching Holidays
Monterey California
Destination 2008
Monterey Bay, California
About the Monterey Bay Area
The Monterey Bay National Marine Sanctuary (MBNMS) is the largest of 13 marine sanctuaries in the United States and administered by the National Oceanic and Atmospheric Administration. It is a Federally protected marine area and encompasses a shoreline length of over 270 miles and 5,320 square miles of ocean. Because of its unique geological setting and diversity of marine life it has become a uniquely important marine environment. More than 30 species of marine mammals live in or pass through Monterey Bay ranging in size from the five-foot long Sea Otter to the hundred-foot-long Blue Whale. Supporting one of the world's most diverse marine ecosystems it is the best place in the United States and the world to view a variety of whale and dolphin species. The Monterey Submarine Canyon approaches close to the shore in the bay area, allowing deep-water species of whales, dolphins, and seabirds to occur near the coast. Shallow water species, such as the Gray Whale, are found very close to shore in the narrow shelf region.
Located on the southern edge of the scenic Monterey Bay, Monterey, California is home to around 30,000 people, and it shares the peninsular with the towns of Carmel and Pacific Grove. It is within easy reach of San Francisco to the north and a trio of scenic state parks to the south, famous for Sea Otters, Harbour Seals and land based whale watching spots. One of the most famous land based attractions is the Monterey Bay Aquarium, which focuses on the diversity of marine life to be found in the bay and strongly promotes conservation of this precious resource. The converted canneries along Cannery Row now house an assortment of shops and restaurants. A short walk around the bay leads to Old Fisherman's Wharf; a popular spot with human visitors and Seals alike. The Monterey State Historic Park preserves a number of historic buildings in the city's centre.
Depending on the season we can expect to see an assortment of the following cetaceans on an accompanied tour to Monterey Bay: Gray Whales, Humpback Whales, Blue Whales, Pacific White-Sided Dolphins, Risso's Dolphins, Northern Right Whale Dolphins, Common Dolphins, Killer Whales, and Dall's Porpoise.
Your Tour Leader
Nic Slocum is a veteran of expeditions to places as far apart as New Zealand, West Africa and British Columbia where he has watched Killer Whales, Sperm Whales and Humpbacks in their natural habitats. A committed conservationist and qualified Zoologist Nic runs Whale Watch West Cork, a leading whale and dolphin watching operation based in the southwest of Ireland. From November through April he leads small parties of cetacean enthusiasts to various parts of the world to view whale and dolphin species not seen in Irish waters and the Eastern Atlantic. A Fellow of the Royal Geographical Society and a Member of the Institute of Biology Slocum has a bachelors degree from the University of Nottingham and a PhD awarded by the University of Surrey in the UK. Nic has appeared as a commentator on a number of TV and Radio programmes including A Place By The Sea, This Is Your Life, "999" and Mooney Goes Wild.
Next trip: Mid March 2008 - 1 week trip
Please contact us for further details:
Call Nic on:
Mobile: 00 353 (0) 86 120 0027
Landline: 00 353 (0) 28 33357
© Whale Watch West Cork Ireland 2005-2009
Use of this site constitutes your acceptance
of our Terms of Use.
[an error occurred while processing this directive] [an error occurred while processing this directive]

Click on images for larger view:

Bottlenose Dolphin Mother and Calf

Common Dolphins Playing
Around the Boat

Bottlenose Dolphin Feeding
See more: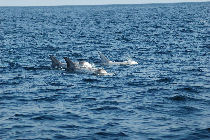 Risso's Dolphins with Pale Colouration
Did you know...?
Proposals tabled by the United Nations and the North East Atlantic Fisheries Commission to put in place lasting protection for deep sea habitats and sea mounts has recently been scuppered by the pirate whaling nation Iceland. Talks to introduce a moratorium on unregulated deep water bottom trawling, a practice which is incredibly damaging to the deep sea marine environment, have recently been taking place. Even nations such as Japan, Canada and Spain, not known for their enlightened conservation policies, were prepared to accept a compromise which would have lead to a degree of protection for deep sea environments, especially cold water corals and sea mounts. Iceland however, was the only country to block the consensus that could have been reached and push for a continued destruction of deepwater marine habitats through bottom trawling. Habitats that harbour fish like the Orange Roughy which are believed to live as long as 200 years. The deep sea marine environment is very easily damaged by activities such as bottom trawling and some habitats may never recover. The call for a moratorium on deep water trawling has been supported by a recent study published in the acclaimed journal Science, that if we do not substantially change the way in which we manage our oceans then we may see a collapse of many commercial fisheries around the globe as early as 2048. cetaceans (dolphins and porpoises) annually worldwide.
Inspirations
Don't be afraid to take a big step if one is indicated; you can't cross a chasm in two small jumps.
David Lloyd George
I would feel more optimistic about a bright future for man if he spent less time proving that he can outwit Nature and more time tasting her sweetness and respecting her seniority.
E. B. White
The goal of life is living in agreement with nature.
Zeno